Cools things about the capital of Vietnam – 8 travel tips to Hanoi
Are you planning a trip to the beautiful city of Hanoi, Vietnam? With its old-world charm, (overwhelmingly) delicious food, and unique culture, it's no wonder why so many people have been inspired to visit the city. If you're looking for tips on how to travel here, or to join us in NET24 Hanoi B2B Workshop, you've come to the right place.
In this blog post, we'll be sharing my top tips for traveling to Hanoi, Vietnam. Let's get the most of it, won't we?
1. Where to stay
If you're looking for a great place to stay in Hanoi that won't cost you much, the Old Quarter, Hoan Kiem Lake and central streets offer plenty of perfectly-acceptable mid-range hotels.
Art lovers should look for Maison d'Orient, stylish Mia Casa by Satori, the hospitable Cinnamon, or La Siesta Classic Ma May with its spa. For an opulent experience, the Capella, designed by Asia-based Bill Bensley, will provide you with an impressive pool and theatrical interiors close to the Opera House. For a luxurious experience, the Sofitel Legend Metropole is an iconic grande dame, boasting a war shelter and having hosted Graham Greene and Charlie Chaplin. For those wishing to stay in West Lake, the InterContinental Hanoi West Lake offers an overwater bar and tangerine sunsets.
2. Walk around and try some street food!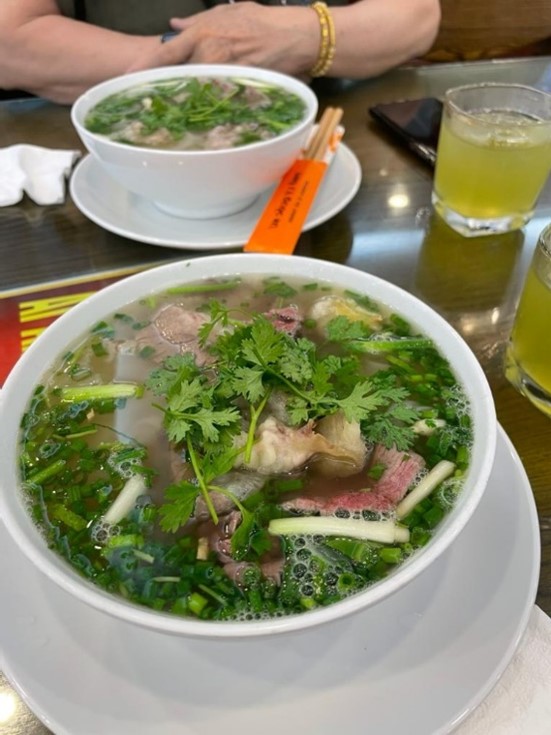 If you're feeling adventurous, go explore the delicious world of street food in Hanoi! You'll find yourself seated among Hanoi locals in no-frills, plastic-table restaurants, with meals costing only $1-3 and served in plastic bowls. Here, you'll find all sorts of people, from bank executives in suits to chatty women in dresses and college students sipping on local beer. Alternatively, you can join a guided tour to discover the best of Hanoi's street food without having to do it alone.
Eating the traditional phở is obviously a good choice when coming to Hanoi. You can try the super classic phở (beef pho broth) as the picture above. But if you're looking for an even more culinary adventure, try the delicious bun cha (pork patties and rice vermicelli) from northern Vietnam, the famous pho (noodle soup with beef layered with herbs and spices), banh cuon (silky rice crêpes stuffed with minced pork, shallots, and wood ear mushroom), the sister dish pho cuon (made with beef), and the French-influenced banh mi (baguette stuffed with pâté and pickled veg). Don't forget to sample the classic Hanoi fish cake found in specialized restaurants: white fish marinated in cumin and turmeric grilled over charcoal and served on a rice bread with a little roasted peanuts. Enjoy!
3. Have a cup of Vietnamese coffee
No, we're not kidding. Hanoi is home to some of the most delightful cafes and coffee shops, and we are proud of it. Exploring the city and getting lost is a must-do, and ends perfectly with a cup of Vietnamese coffee. We highly recommend trying egg coffee – an egg custard served on top of black coffee – which is surprisingly delicious!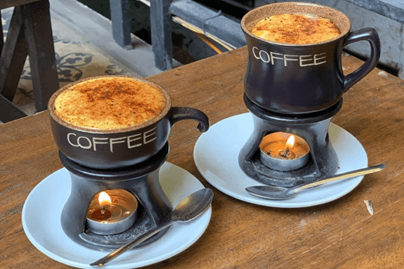 3. Have a cup of Vietnamese coffee
No, we're not kidding. Hanoi is home to some of the most delightful cafes and coffee shops, and we are proud of it. Exploring the city and getting lost is a must-do, and ends perfectly with a cup of Vietnamese coffee. We highly recommend trying egg coffee – an egg custard served on top of black coffee – which is surprisingly delicious!
4. You can't always walk on the sidewalk
If you think the traffic is crazy and sidewalks can save you, you're wrong. In Hanoi, the sidewalks are often filled with parked motorbikes and people's "living quarters". As a result, pedestrians must brave the chaotic traffic on the roads. Be very careful as you walk when the roads are full of motorbikes and cars. However, Hanoi also has Hoan Kiem Lake Walking Street, where you can freely walk on the middle of the roads on weekends, while all other vehicles are kept outside.
5. Crossing the street is an actual skill
You might have seen tons of videos of visitors who try to cross the Hanoi streets as an "extreme sport". It is correct that people do not use only zebra crossings here, on the other hand, you can cross the street wherever you want!
If you wish to cross the road, it is best to be assertive and walk out in front of the oncoming traffic, even if it is a bit intimidating at first. Do not expect vehicles to stop and wait for you.
6. If you are lost, just go straight
The famous Old Quarter of Hanoi is full of history. You might want to gain an appreciation for the vibrant atmosphere and special places in those 36 streets by taking a seat at a café and watching people's lives going on from a distance. You'll witness bicycle vendors with fresh flowers and fruit, old friends playing checkers, and vendors selling steaming phở and bún chả. As you explore the area, you'll be rewarded with surprises in hidden alleyways, secluded pagodas, and cozy coffee shops.
But! It might be tricky if you have just visited this place. Seems hard to believe, but Hanoians have one tip for generations that if you are lost in the Old Quarter, just go straight and you will find a way. So just in case you don't have the internet and people around do not speak English, try the tip out 🙂
7. Something to keep in mind
Yes, we eat with chopsticks. But in case you cannot, it is totally ok to use other tools as well.
Vietnamese people are known for their hospitality, however, there are some unwritten rules you might want to know.
– Always use both hands when passing an object to older people.
– When greeting or bidding farewell, it is customary to shake hands with both hands while bowing the head slightly to show respect. When encountering elderly people who do not extend their hands, a bow is more appropriate. Vietnamese women tend to bow their heads instead of shaking hands.
– When visiting a Vietnamese home, bring a gift for the hostess. A gift for children or an elderly parent is also appreciated.
– Don't be taken aback if your host doesn't open your gift right away – it's a cultural norm! It will be opened in private at a later time.
When visiting a sacred site, it is important to be respectful of those who are there for religious worship and reflection. Make sure to dress appropriately, avoiding tight-fitting and overly short attire. It is also important to remove hats and to avoid any head and feet actions that may be disrespectful. Touching someone else's head is highly discouraged, as is pointing the soles of your feet towards anyone or sacred statues.
8. Other must-have information
1. Vietnamese Currency
The Vietnamese currency is called the Vietnam dong (đồng) (VND).
The current equivalent is:
1 EUR = approximately 24,900 VND
1 USD = approximately 23,575 VND
2. Transportation
When travelling the 30 km distance from Hanoi Airport to Hanoi city centre, you have 4 options: you can take the express bus (45 minutes), shuttle bus (1hr 15m), public bus (1.5 hours), or a taxi (45 minutes). Rates are from 10,000 VND ($0.40) to 230,000 VND ($9.50).
We would recommend downloading Grab/ Be/ Go Viet taxi (similar applications to Uber)
3. Emergency numbers
Police – 113
Ambulance – 115
4. Plug types
For Vietnam, there are three associated plug types, types A, C and F.
Vietnam operates on a 220V supply voltage and 50Hz.
To sum up, those eight tips above would be useful for you when first coming to Hanoi. However, it is always worth it to experience the lovely city of history and nightlife by yourself and make the most of it.
If you are coming to attend NET24 Hanoi Workshop, we would be happy to provide you with the best experience, not only in the educational B2B aspect, but also in the great connection with local agents which brings you unforgettable moments. For more physical events, book a meeting with us. We wish you a great travel!